New Website Technologies...
Make Your Website a Place...
For many years, the norm for websites has been static, unchanging and ho-hum. These websites, while often informative, lack continuing interest and pizzazz. Because they remain static, traffic falls off drastically. It's like purchasing TV advertising at 4 am. It's there, but no one sees it.
Until recently, only larger corporations and web designers could afford to have content that changed regularly or a new technology dynamic website. But all of that has changed. If your website is made up of static HTML, then you are missing most of the potential of your internet advertising dollars.
You do have a choice! You can have dynamic modules added to your current website and make changes yourself through any internet connected machine. We assign you an administrative password and you're ready to go. If you can type, you can have a beautiful and exciting website.
Here are some ideas and suggestions. Firstly, consider an online calendar. Here is an example of one we install: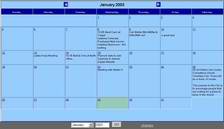 Click on the image to view it live. Once you use a dynamic calendar, entering events "live online" you'll wonder how you ever worked without it. Another design is below: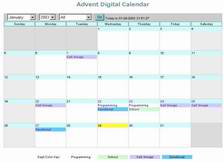 This design is multi-departmental. Go to the live calendar by clicking the image, then look at individual events by clicking on the description. These calendars set you free from ongoing costs and free to update them from anywhere on the planet.
Next, I propose you consider an Online Forum. These really keep the people coming back for more information. You can even manage support online with a forum.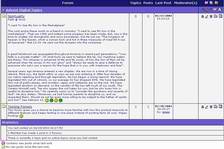 Visit the live forum by clicking on the image above.
We offer many dynamic content add-ons that really make your website meaningful, such as:
• News Publishing & Editing, HERE
• Story/Article Publishing, HERE
• Online Chat, HERE
• Photo & Story Gallery, HERE
• Online Store, HERE
• News Column, HERE
We have other modules in-the-works. Let us know your request.
Dynamic Content Websites
100% Dynamic Websites
Consider this: Your new website is created and published onto the internet. You love it, your staff and clients love it too. But the best part is, all of the content can be changed by you or a staff member, from any computer with internet access. This gives you incredible freedom and power. In the recent past, you would have to employ a full time webmaster to accomplish this degree of flexibility. Not any more. Advent Digital offers a wide range of fully dynamic websites that can be published and working in less than 1 week.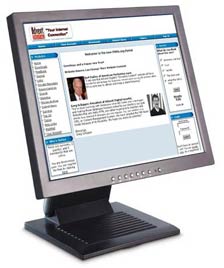 The website on the monitor above is one of these new technology websites. Click on the image and look around! The monitor on the left is a link to another.
Dynamic Websites use database technology to generate pages "on the fly". Site content is held within a database that can quickly and easily be updated. This means that your website can be updated in an instant.
Included within the Dynamic Website is an online administration system, a website management tool that is accessed over any internet connection.
The administration system provides a simple "point and click" interface. This allows even those with only basic keyboard skills to quickly and easily update the contents of your website. You can even create new pages at the click of a button!
Remember, the content is by far the most important aspect of your website. Using the Dynamic Website from Advent Digital, YOU are in control.
These designs include news management, article management, forum management, membership management, photo gallery management, polls and survey management, and much more.
Here are some more live examples for you to view:
Today, your only limit is your imagination. Why not make the most of your advertising dollars? Decide to build a dynamic website today. Call or email for a speedy quote.
Blessings in Your Business,
Greg Schipper
Phone 210-493-6193